What is reverse engineering and how can it help you?
Sometimes customers come to us with a part they want us to replicate. They don't have the detailed drawings or spec we normally require, but they do have the existing component. In these cases we may be able to use reverse engineering to accurately recreate the part.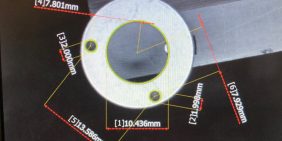 How does reverse engineering work?
The basic process looks like this:
1. Study product characteristics
We start by looking at the part, including how it's constructed and what it's made from. If it's a component that is part of an assembly, it can also help to see how it fits and works within its physical environment.
2. Record product dimensions
We measure the product carefully and record its exact dimensions. To ease this process, we often use our state-of-the-art Keyence IM-7030T measuring system.
3. Create and compare 3D model
Using the data from steps one and two, we create a 3D model of the item using SolidWorks and compare it with the original.
4. Produce CAD drawings and specification
When the replica is 100% perfect, we produce the detailed drawings, and product specification, together with the correct CNC machining process for manufacturing it.
5. Precision manufacturing
We are now ready to mill turn the part in the appropriate material.
When is reverse engineering needed?
There are a number of reasons you might need to reverse engineer an item. Here are some of the most common ones.
Prototype conversion.
If you have built a prototype yourself and would like us convert it into a part that can be fabricated.
Example:
A customer came to APT with an aluminium shotgun safety breech flag. From the sample provided, we were able to produce a new product, also in aluminium.
Design modifications.
If you need to change a feature of an existing part, such as a thread, hole size or even the manufacturing material.
Example:
The customer had a carbon fibre handle for a carp fishing rod. Using the original part, we were able to reverse engineer a new handle. We machined the Acme thread and slot, to produce a modified handle with an extendable grip.
To reproduce an obsolete item.
For example, if you need a machine part that's no longer available. This may happen if the manufacturer no longer supports the model you have or carries replacement parts for it.
Example:
We reverse engineered a stainless steel lamp surround and screw ring for a customer's classic car. The surround had a large diameter, which made it challenging, but it was a pleasure to recreate it.
To fix a defective item.
If your product has a flaw, we can reverse engineer it to make improvements and fix any problems.
Example:
The customer came to us with a steering rack end cap for a TVR sports car. The part was around 70mm in diameter and 60mm long, which is quite large. The original part was defective and leaking, so we reverse engineered it and machined it in aluminium, with better machining tolerances.
Could reverse engineering help you?
Do you have a turned part or CNC machined component you want to reproduce?
Or do you need to modify an existing part, but don't have the drawings or spec?
We may be able to help.
To find out more, or contact us about a project, please call the team on 0116 287 0051 or send us a message using the enquiry form on our contact page.