The importance of precision in engineering
Precision engineering has transformed modern manufacturing. It's allowed us to create complex, high-specification parts with exceptional levels of accuracy and detail. And to mass produce them for different applications in many different sectors.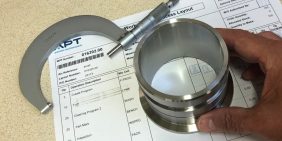 How precise is our precision engineering?
APT are experts in designing and machining high-spec, complex parts. The degree of precision we use is determined by the features of the part we're producing, including its shape, form, holes, grooves, undercuts, tappers, threads, etc. It also depends on the needs of the customer.
We measure the tiny features of our precision parts in microns. There are 1000 microns in a millimetre.
Our CNC machines can be precise to within 10 microns, which is about 1/7th the width of a human hair. And they can reproduce infinite parts at that same level of accuracy.
This degree of precision is easier to achieve on small and finely detailed parts. But it becomes more difficult when parts are longer, or require the use of certain materials — for example, the super alloys used in Aerospace sector manufacture.
In these cases, accuracy within 20 microns is easier to achieve and is often sufficient.
What are the advantages of precision engineering?
Such high levels of precision can only be achieved by CNC machining. And it offers a range of clear advantages compared to manual manufacturing. So let's have a look at how these advantages benefit you.
Functionality and smooth operation
Precision engineered parts fulfil their purpose well. They're designed to fit and work together smoothly and seamlessly. This reduces noise, friction, grating and rubbing.
Durability
Reduced friction means the precision parts are less susceptible to wear and tear. They can run for much longer while maintaining the same high function and they're less prone to breakdowns and downtime.
Reduced running costs
Precision-made parts are designed to run more efficiently, which uses less energy. They can run for longer intervals without maintenance. And they don't wear out so quickly, so you won't need to replace them so often.
Improved safety and reliability
Precise mechanisms run much more reliably and need less human intervention for maintenance and adjustments. This eliminates much of the potential for human error. Many precision machines are also self-monitoring, so they can alert you to issues early, and long before they become dangerous.
Accurate measurement, assessment and reporting
The more the precise the equipment, the more accurate the results. This is particularly relevant in the medical sector, where accuracy is vital for making diagnoses, delivering the right amount of treatment and saving lives.
Water/air-tightness
Precision engineered components fit together perfectly. Where systems are carrying liquids and gases, this is essential. The precision parts ensure the flow is sufficient and consistent. And they prevent leaks, which are inefficient and wasteful.
Easy access and maintenance
Every mechanism needs easy access for maintenance, replacements and repairs. With precision machined parts, this can be easily engineered into the design.
Conforming to industry standards
APT is accredited with the AS9100D and ISO 9001 Quality Management Systems. These accreditations have been vital for building customer confidence and assuring you that we can deliver the high-specification, precision parts you need.
Do you need high-specification precision machined parts?
APT are experts in producing complex and finely detailed precision machined components. And we work with a wide range of industries.
To get a quote for mill turned parts or CNC machined components, please call APT Leicester on 0116 287 0051 or send the team an email here.