Machining stainless steel for the engineering sectors
Stainless steel is one of the metals regularly machined by APT. But what makes it a good choice of material, what is it used it for, and how do we machine it? In this article, we'll explain what stainless steel is and why it could be the right choice for your products.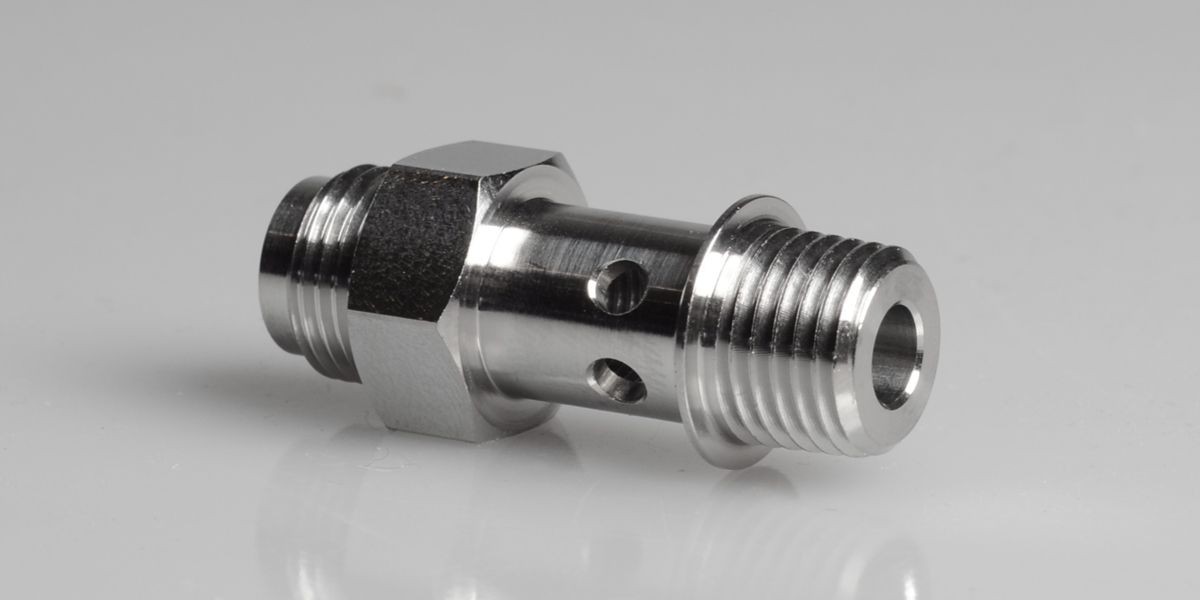 What is stainless steel?
Stainless steel is an alloy of Iron, with a minimum of 10.5% Chromium and variable amounts of Carbon, Silicon and Manganese. The Chromium gives stainless steel its anti-corrosive properties, with an added surface layer of oxide. The higher the Chromium content, the better its resistance to corrosion.
There are five stainless steel families, all classified by their crystalline structure:
Austenitic – Grades: 303, 304, 309, 316
Ferritic – Grades: 409, 416, 430, 439
Duplex – Grades: 2205, 2507
Martensitic – Grades: 410, 440
Precipitation Hardened – Grades: 17-4 PH, 15-5 PH
Why does the upgrade to stainless steel make sense?
1. Corrosion and heat resistance
Stainless steel will have varying levels of fire, heat and corrosion-resistance, depending on its composition. Withstanding exposure to elevated temperatures and pressures, this material is suitable for a wide range of applications. Highly alloyed steels can even resist corrosion when exposed to acid and alkaline solutions.
2. Strength
Stainless steel can be machined to have greater strength than mild steels or non-ferrous metals, even at a reduced thickness. Often used in Aerospace applications, stainless steel parts can withstand exposure to extremes of heat and cold.
3. Durability
Offering exceptional levels of corrosion-resistance and strength, stainless steel products are suitable for a range of long-term applications. Stainless steel is an understandably popular choice among reputable manufacturers.
4. Cleanliness and low maintenance
Easy to clean and maintain, stainless steel meets the sterile hygiene requirements of food processing, water treatment and pharmaceutical industries. It can be applied without the need for protective coatings or other special surface treatments which typically deteriorate and need periodic maintenance.
5. Appearance and premium aesthetic
Available in a variety of surface finishes, stainless steel products have an undeniably premium aesthetic. Whether highly polished, or routinely machined, brightly metallic stainless steel will be a pleasure to the eye.
What should I consider when choosing stainless steel for my turned parts?
Does the part need to be welded?
How much and what type of corrosion resistance is required?
Does the part requires heat or surface treatment?
What are the strength requirements?
What are the typical applications?
What are the most commonly machined stainless steel types?
Stainless steel has a wide range of applications, from domestic kitchen accessories to international transport. APT machines all grades of stainless steel for a range of engineering sectors.
The four we most commonly use are:
303 (1.4305)
This austenitic stainless steel has a high level of machinability. Offering good corrosion-resistance, non-magnetic 303 is not suitable for wet or marine environments.
Main properties of Stainless steel 303:
Easily machined and with good mechanical characteristics
Good resistance to corrosion in mild environments
Not prone to galling, making it an ideal choice for moving parts
Generally considered unweldable
Stainless steel 303 applications:
An easily-affordable stainless steel, 303 is mainly used for general applications such as bolts, precision stainless fasteners, fittings and gears.
304 (1.4301)
The most common grade of stainless steel used around the world, 304 is preferred for its exceptional corrosion resistance, workability, price-quality ratio and excellent welding characteristics.
Main properties of stainless steel 304:
Corrosion-resistant to most oxidising acids
Good heat-resistance and outstanding toughness
Easy to clean or sanitise thanks to its durability
Vulnerable to corrosion from saline environments and sodium chloride
Stainless steel 304 applications:
A general purpose and heat-treatable austenitic stainless steel, 304 is used where strength and toughness is a main requirement for parts such as connectors, pivots, housings and spindles.
316 (1.4401)
Although second to 304 in terms of commercial importance, 316 is an austenitic stainless steel with overall corrosion-resistant properties. 316 also has excellent fabrication characteristics and can be easily machined.
Main properties of stainless steel 316:
Wide range of chemical-corrosion-resistance
Performs well under sub-zero or relatively high temperatures
Can be readily welded using any of the standard welding processes
Very easy to clean and good heat-resistance
Stainless steel 316 applications:
A high-class austenitic grade, 316 is used in food and hygiene applications, such as food processing, brewing, water treatment and pharmaceutical equipment. Parts range from barrels to pulleys and handles to pins.
416 (1.4005)
A martensitic-grade stainless steel enhanced by sulphur and phosphorus, 416 is the most readily machinable of the stainless grades. It is also known for its magnetic and wear-resistant properties.
Main properties of stainless steel 416:
Magnetic in all conditions
Highly machinable and wear-resistant
Suitable for a wide range of mechanical applications after heat treating
Non-seizing and non-galling
Stainless steel 416 applications:
A chromium grade of stainless steel with phosphorous and sulphur added for enhanced machinability, 416 can be easily mill turned to produce parts such as axles, shafts, valves, pinions, nuts and bolts.
How is stainless steel machined?
APT has several processes for machining stainless steel. They include:
Mill Turning, for machining different shapes.
Threading, to create a variety of screw threads.
Boring, to make cylinders, pipes and assemblies.
Broaching, for machining holes, teeth and keyways.
Burnishing, to improve the surface of the metal.
We manufacture a wide variety of stainless steel precision turned parts for a range of applications. See the cross sectors examples in our gallery.
Do you need stainless steel components?
APT specialise in the manufacturing of stainless steel cnc turned components for a range of applications, including those where high-strength, sterility and anti-corrosion are of particular importance.
To find out more, or get a quote for subcontract manufacturing, please call the team on 0116 287 0051 or send a message using the enquiry form on our contact page.