Why brass is good for machining?
Brass turned components are some of APT's best selling products. But what exactly is brass, what do we use it for and what makes it such a good choice for machining? In this article, we'll explain why brass is one of the best materials – for our customers and our subcontract machining process.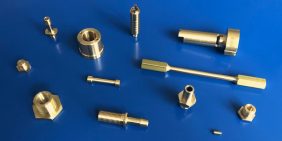 What is brass made of?
Brass is an alloy of Copper and Zinc.
EN standards (EU Norms) identify more than 60 different grades of brass. Each grade has specific proportions of Copper and Zinc, plus added elements that give it different properties. These added elements include aluminium, lead, manganese, phosphorous and silicon.
The brass grades used for machining fall into one of two categories:
– Alpha alloys, which have a zinc content less than 35%, are ductile, easy to machine and can be cold worked.
– Alpha/beta alloys, which have a zinc content between 35% and 45%, are harder and stronger, but less ductile when cold.
What is brass used for?
Brass has a high tensile strength and is easy to machine. This makes it ideal for intricate and low-friction parts, like locks, gears, valves and bearings.
Its high corrosion resistance is good for outdoor use, plumbing components and naval/marine applications.
One of brass's best known applications is in musical instruments, such as bells and horns. Its ductility makes it particularly easy to work with and form.
And, with its gold appearance and high shine, it's often used in decorative pieces, like sculptures, ornaments and doorknobs. However, in its natural form it's prone to tarnishing and needs polishing regularly.
Why do customers choose brass?
Brass offers customers exceptional value for its price.
Plus, it's a strong, durable and weather-resistant alloy that offers a variety of plating and finishing options.
Why is brass so good for machining?
Brass is one of the most widely used and versatile materials to work with.
It machines easily and with very few problems, so the machines can run all night, outside working hours and without supervision.
Brass causes very little or no tool wear, which means the machine tools last longer and need to be replaced less frequently.
What is the best brass for machining?
The best all-round brass grade is CZ121. It falls into the alpha/beta category, which is the harder and stronger of the two varieties.
The addition of a small percentage of lead makes it ideal for machining. This is because the lead's softer particles make it more resistant to chipping during the machining process.
CZ121 is the grade of brass APT uses for machining sophisticated security devices, like multipoint locks.
Do you need brass turned components?
APT is a brass parts manufacturer, specialising in brass turned parts for a range of applications.
To find out more, or get a quote for manufacturing, please call the team on 0116 287 0051 or send a message using the enquiry form on our contact page.