Turned parts for medical manufacturing
APT has more than 15 years' experience of working with medical device companies to precision machine turned parts for a range of stainless steel medical equipment parts and surgical instruments.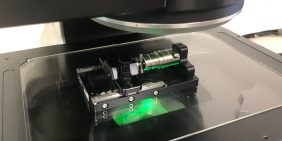 Experts in medical manufacturing
APT has worked with customers in a varied range of medical sectors, including medical labs. And we've assisted with the precision machining of surgical instruments, dialysis machine components and powder measurement equipment.
We have the experience and capacity to design, engineer and precision machine a wide range of parts and components for the medical sector. These include, but are not limited to, valve housings, flow pins, manifolds and surgical tool components.
Whatever you need, we can manufacture everything from single turned parts to full and part assemblies. We have the incredibly high standards demanded by the medical sector and are accredited with AS9100. All our parts inspected with our Keyence IM-7030T state of the art measuring system, ensuring we don't compromise on quality.
The addition of Doosan multi-axis lathes to our factory has increased our potential and capabilities in medical manufacturing.
Using medical grade stainless steel
We use two varieties of medical grade stainless steel.
The first is 316 stainless steel, which also meets the stringent standards of the aerospace industry. This particular stainless steel has added molybdenum, which gives it improved corrosion resistance. It's also incredibly tough — even in cryogenic temperatures — and is particularly suitable for use in heavy gauge welded components.
The second is 17/4ph stainless steel, also known as 630 stainless steel. This is a precipitation hardening stainless steel containing nickel and chromium. It has the corrosion resistance of austenitic stainless steel and develops a high strength through heat treatment, like martensitic grades.
Do you need turned parts for medical manufacturing?
APT can help with the design, engineering and precision machining of turned parts for medical devices and surgical instruments. We have the precision engineering knowledge and material expertise to create parts that work together seamlessly to stand the test of time.
Whether you need new or replacement parts, please get in touch to see how we can help you.
"APT's turned parts knowledge was the best we had ever received. Their design team had solutions to problems that other engineering companies did not even think of. APT gives a complete package: service, quality and on time delivery."