How APT Leicester is transforming Euro Lock manufacture with total precision
Euro cylinder locks are some of the most commonly used on the market today and remain in huge demand across the residential security sector. In recent years, APT Leicester has worked to refine and improve a new process to manufacture Euro locks with outstanding efficiency and precision.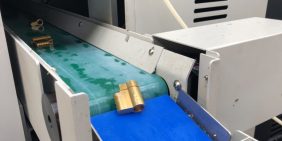 How difficult is the manufacture of a Euro cylinder?
Until now, the usual way to make Euro locks has always started from an extruded lock shape in brass. It's an ideal material for making intricate turned parts due to its versatility and ease of machining.
However, the process is very labour intensive since extrusions need to be pre-cut to the length of a lock before machining on a 5-axis CNC centre. These un-machined brass lock bodies are placed in a jig by hand but there's some room for error since they might not be positioned correctly, resulting in small inconsistencies in the finished parts.
All in all, manufacturing anti-snap Euro locks on a machining centre is a complicated process and one that APT Leicester felt could be drastically improved. They began to draw on their decades of knowledge and experience to come up with a new and innovative solution.
How APT is making innovative Euro lock components
Since investing in two new lathes, APT have come up with a novel way of machining locks, developing a new technique on a Doosan fixed head lathe.
The lathe works like a CNC machining centre but it has the added ability of rotation and more importantly, can feed an extruded bar automatically rather than needing labour-intensive lock body blanks to be cut first.
The 7-axis state-of-the-art lathe is also able to work on many lock variants, such as key shapes or body lengths, at the touch of a button. With this capability to run different macro-programs, there's no time lost in setting the machine up to run all the variations needed.
For APT, the result has been a manufacturing process that's incredibly accurate, flexible and efficient; a fully automated system with the capacity to turn out extremely complex, intricate parts with ultimate precision, faster than ever before.
One stop that takes care of all the turned parts
APT have since applied this knowledge not only to machine Euro lock bodies but other parts including differ pins, outer shells, plugs and housings.
From design to precision machining, assembly and delivery, APT can take care of the entire process, looking after their customers and providing the kind of quality and reliable turned parts that are making them into leaders in lock manufacture.
Are you a lock manufacturer looking to take advantage of our precision service for euro lock turned parts? Please call us on 0116 287 0051 or contact our experienced team by email here.