Achieving musical greatness in partnership with APT
Based in rural Leicestershire, Alexander Accessories have been hand-crafting violin accessories of the highest quality for more than 40 years. Essential support has been provided by APT in the manufacture of various intricate mill-turned parts.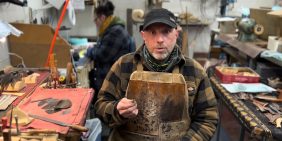 Alexander Accessories have earned an outstanding international reputation, becoming the first choice suppliers of chinrests and tailpieces to some of the world's most celebrated violin and viola players.
Committed to remedying the shortfall of expertly hand-crafted chinrests and tailpieces – particularly of the hard-grained hardwood variety – Alexander Accessories strive for perfection in every piece. Having initially been disappointed with the supply of oily and poorly-finished turned parts, they made the decision to begin working with APT in 2016. They have been highly impressed by the APT manufacturing process, with clean parts being efficiently delivered to the Alexander Accessories workshop.
APT have used high-grade materials such as medical-grade titanium for weight saving and non-allergenic requirements. Brass and nickel silver have also been used to manufacture 25 components of different lengths and sizes. Exceptional manufacturing standards have been maintained in accordance with AS9100. Special tooling has been used for the production of intricate parts. And the successful relationship looks set to continue, with Alexander Accessories ordering between 2,000 and 3,000 parts each year.
The APT team have welcomed the opportunity to apply their expertise in the manufacture of interesting parts for such a reputable local business. They have worked with the Alexander Accessories team to produce a new clamp, and advise on the ideal production process. The new design has been based on the customer's historic styling requests.
Read more about Alexander Accessories and the hand-crafting of exquisite chinrests and tailpieces on their website here.
"We're delighted with the working relationship we have with APT. Their knowledge and engineering capabilities are impeccable, also their advice about materials and what can be accomplished."