APT take a flexible and eco-friendly approach to delivery
APT strive to be flexible and eco-friendly in the delivery of customer orders. Making exclusive use of recyclable and reusable packaging, we ensure the efficient delivery of parts to customers throughout the UK and further afield.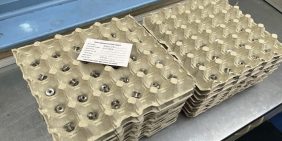 Focusing on customer satisfaction
Believing in transparency, we include the cost of delivery in the pricing of our expertly manufactured parts. We also show our flexibility in the use of innovative packaging and transportation methods for mill turned parts. You can be assured of speed and efficiency whether you place an order for small, complex components or larger assemblies with APT Leicester.
We cater for the full range of packing requests, even using the customer's own bespoke boxes for the special protection of ordered parts. This extends to the wrapping of breathing apparatus components for the emergency services and defence sector in lint-free tissue, which prevents contact with foreign and potentially harmful debris.
Each packed box or bag is labelled with the corresponding customer and works order number, ensuring unique traceability in compliance with the AS9100 rev D standard across every order.
Offering a professional delivery service
Experienced and safety-conscious, Carl and Daniel take responsibility for the packing and transportation of our precision turned parts. We deliver using our own transport, this means that any urgent orders or customer issues can be handled with the greatest efficiency. Some of our customers have us collect their packaging, such as the small cardboard boxes, on delivery.
Any large and bulky parts are delivered in person to limit the risks of avoidable damage. We weight-count some of the smallest CNC turned parts on our calibrated scale before placing them in a strong bag that is heat sealed for secure delivery. Great care is taken in the wrapping and packaging of all parts and assembled components.
Limiting the use of plastic
Aiming to reduce our impact on the environment, we minimise the use plastic packaging at all costs in favour of friendlier materials. We use egg trays that are 100% recyclable and biodegradable. Able to hold up to 30 parts per layer and ideal for stacking, the trays make it quick and convenient to pack. Our customers love them too.
Striving for complete customer satisfaction we'll ensure that your turned parts or components are delivered safely in packaging that is environmentally friendly and can be easily recycled.
Considering your turned part delivery options?
No matter how far you might be from our Leicester factory, with easy access to a variety of distribution networks on our doorstep, APT Leicester will deliver your turned parts orders with speed and efficiency.
Would you like further information about the packing and packaging options for your order? Give APT Leicester a call on 0116 287 0051 or send us an email with details of your requirements.