APT maintain excellent business relationships with dedicated account support
Specialising in the manufacturing of mill turned parts, APT consider it a priority to maintain excellent relationships, both with our suppliers and customers. This couldn't be achieved if it wasn't for the everyday support of our experienced Account Supervisor, Karen Walker.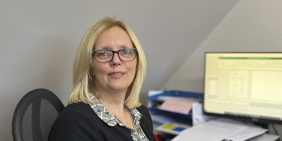 Customer account management
Having started working for APT in 2006, Karen has developed an excellent understanding, both of the turned parts manufacturing process and the expectations of our highly valued customers.
Providing essential admin support, Karen's daily duties include raising customer invoices, following up on payments, cashflow forecasting and banking. She shares in the APT commitment to customer service, listening and giving support wherever she can. Karen is very grateful for the strength of the long-standing customer relationships, with payments rarely having to be chased.
Bookkeeping efficiency
Karen credits the smooth handling of the APT accounts in part to the adoption of Sage accountancy software. Since supporting the transition of APT's bookkeeping, she has been able to use Sage for everything from the monitoring of cash-flow to the creation of detailed financial reports.
Supplier invoices are transferred directly to the Sage system, with BACS payments being rapidly processed. Karen takes responsibility for handling tool orders, with next day delivery being arranged where possible.
Karen also uses Sage in the management of the APT accounts, fulfilling these key tasks:
– Ensuring regular and complete staff payments
– Filing VAT returns
– Managing staff holidays
A taste for life
Apart from crunching the numbers, Karen takes great pride in cooking, with her signature dish being a hearty chicken and chorizo pie. She also has a love of the theatre, enjoying shows both in local Leicester and London's West End. Her recent favourites have included Les Miserables and Anything Goes.
Keen to order turned parts with a company that prioritises customer service?
Do you need high-specification precision machined parts and are you keen to arrange the purchase and delivery of precision turned parts with a company that focuses on customer service?
Give APT Leicester a call on 0116 287 0051 or email the team today.