APT look to a bright future after navigating a challenging year
The APT team is looking forward to fresh developments and opportunities in the new year. But before we uncork the champagne, Nick Baller, Managing Director at APT has taken a little time to reflect on 2021. It's been an unusual year, to say the least!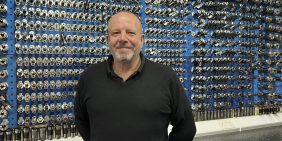 Apart from having to contend with the catastrophic impacts of the pandemic we've been embroiled in an ongoing battle, with shortages of materials, labour, and spare parts.
The material challenges have been managed through a mixture of forward planning and committed support from our customers and suppliers. We know that we aren't yet over the worst, with the lack of stability expected to be an issue until mid-2022 at least. However, the updating of our PSL Datatrack system will ensure that we aren't caught unawares by any pricing changes down the line.
The Aerospace sector looks set to take off over the coming months, fuelling demand for our range of AS9100 accredited components. There's also reason to believe that motorsport will get back on track given the continued success of the vaccination program. We're hopeful that our other sectors of focus will remain steady, with early indication of collective growth as we move into 2022.
In other positive news, our latest apprentice, Joe Ford, has moved onto his final year of four studying at MTC Coventry. Joe is the latest in a long line of apprentices to have moved through the ranks at APT, enhancing the longevity and stability of our workforce.
2021 has also presented the opportunity for our staff to undertake virtual Keyence training, improving their knowledge of the Keyence IM7000. The advanced training in lighting parts and programming to streamline the quality control process has proven a great success. It has improved the understanding of additional features which are now being used on an everyday basis for the production of mill turned parts.
The one thing that hasn't been affected is the way that APT approaches all of the projects that come our way. We believe that Engineering is the key to perfection and customer satisfaction. So bring on 2022!
Wishing you all a fabulous Christmas and a prosperous New Year.
Nick Baller
Managing Director