APT Leicester sponsor Team Derby Motorsport
A team of budding engineers are excited to be competing in the Formula Student (FS) races, set to commence in August this year, and again in July 2020. With the help of APT and our No.1 precision turned parts and CNC milling capabilities, Team Derby Motorsport will greatly benefit from our high-quality components.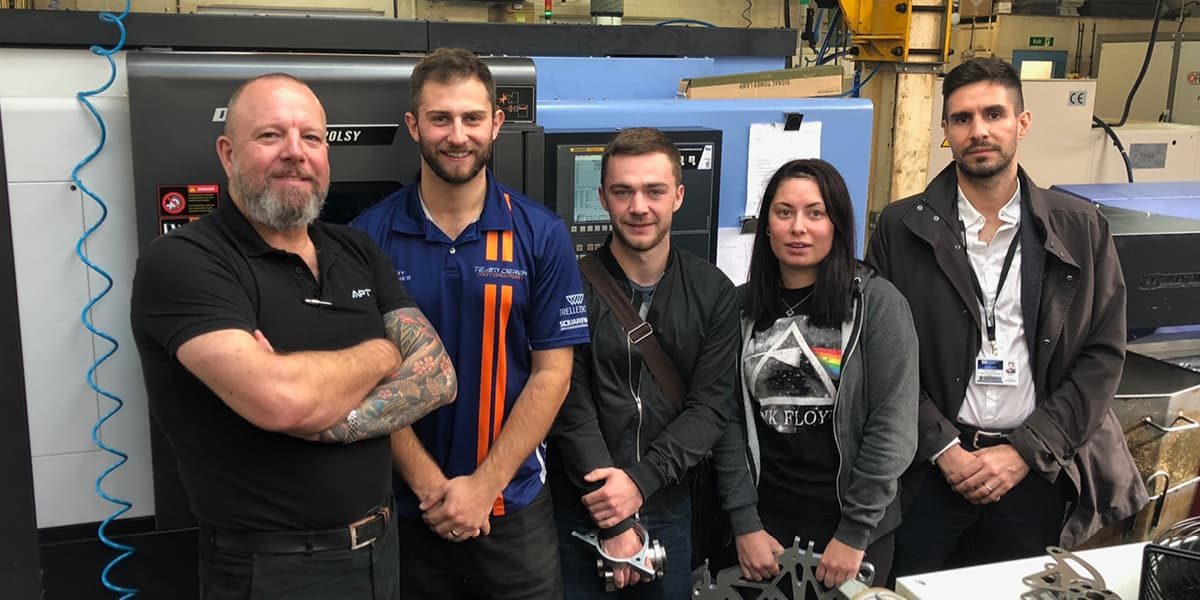 The competition, heavily supported by industry and well-known engineers such as Patron, Ross Brawn OBE, aims to develop the innovativeness of young engineers and to encourage aspiring youngsters to take up engineering as a stable career option.
Forming part of Motorsport Engineering courses at universities across the UK, including the University of Derby, constructing a high-performance car for the FS races is viewed as a standard criterion for skilled engineering graduates to meet. The aim is to help prepare and transition students from university to the workplace.
Combining project management and business planning, these practical, transferable engineering skills makes this project ground-breaking for real-world engineering experiences. With over 100 university teams from around the world, Team Derby Motorsport, who will be representing the University of Derby, will be taking part in their first race at Autodrom Most in the Czech Republic in August 2019. By July 2020, the talented young team will be preparing for their second race at Silverstone in the UK.
That's why APT are proud to be able to supply the skilled team of engineers at the University of Derby, with aluminium suspension spacers that have been manufactured to the highest quality standards and with the utmost precision.
These precision aluminium turned parts are vital to the car's design, and here at APT, we were able to manufacture them to precise specifications using one of our latest Doosan high-speed multi-axis lathes. To be tested and refined after the Czech Republic race, the expertly designed and assembled racing car will help to lead the young engineers to a well-deserved victory.
We're committed to nurturing the skills and talents of engineering students across the East Midlands. That's why APT are proud to be able to help the young engineers at the University of Derby, hoping to lead them to racing success.
For more information about subcontract precision turned parts and CNC milled components, as well as the other services we offer, get in touch with one of our experts today – we're always happy to help.