Security sector engineering
APT has decades of expertise in the design and manufacture of complex and robust door lock parts. From design to precision machining, assembly and delivery — we can take care of everything.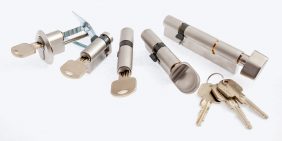 Expert lock manufacturing
We have developed a reputation as a leading and respected supplier to the security industry. Using our expertise and knowledge, we have been able to design and produce a wide range of innovative and effective door lock parts.
You can have confidence in our ability to guide you through each stage of the process, from design and precision machining to the final finished product
We specialise in door lock components for both domestic and industrial locks. They have included high security locks for high end housing in London, where break-ins and burglaries are a common concern.
Brass turning
Our door lock parts, including pins, outer shells, bodies, latches and housings are precision machined using state-of-the-art lathes. These allow diameters of up to 65mm, from bar, and also facilitate 300mm billet work.
This predominantly automated process is fast and accurate. It also means some of the parts can be machined 24/7 during lights-out, delivering maximum capacity.
Vertical machining
For larger and more unconventional lock bodies, our CNC vertical machining technology gives us additional machining capabilities.
Our vertical CNC machines work at spindle speeds of up to 12,000rpm. They're equipped with a pallet loading system, which enables us to produce up to 24 CNC milled parts at a time.
The machines also allow us to inspect your door lock parts in-cycle. This means we can ensure stringent quality control without slowing down production.
Committed to continual improvement
We're committed to furthering and maintaining our reputation as a leading supplier to the security sector. In line with this, we continuously research and invest in the latest technology.
Alternatively you can send us an email and one of the team will get back to you within 24 hours.
"We have worked with APT from the early days of design to volume production. Without their attention to detail and quality, we would not be able to produce our products. Great company to deal with."