Introducing our latest state of the art measuring system
We welcome our latest investment, the Keyence IM-7030T. The addition of this top of the range Image Dimension Measurement System will provide our customers with a better, more efficient service. This new, sophisticated equipment avoids the negative aspects associated with old fashioned conventional measuring systems, offering faster components inspection times, consistent results and increased productivity all round.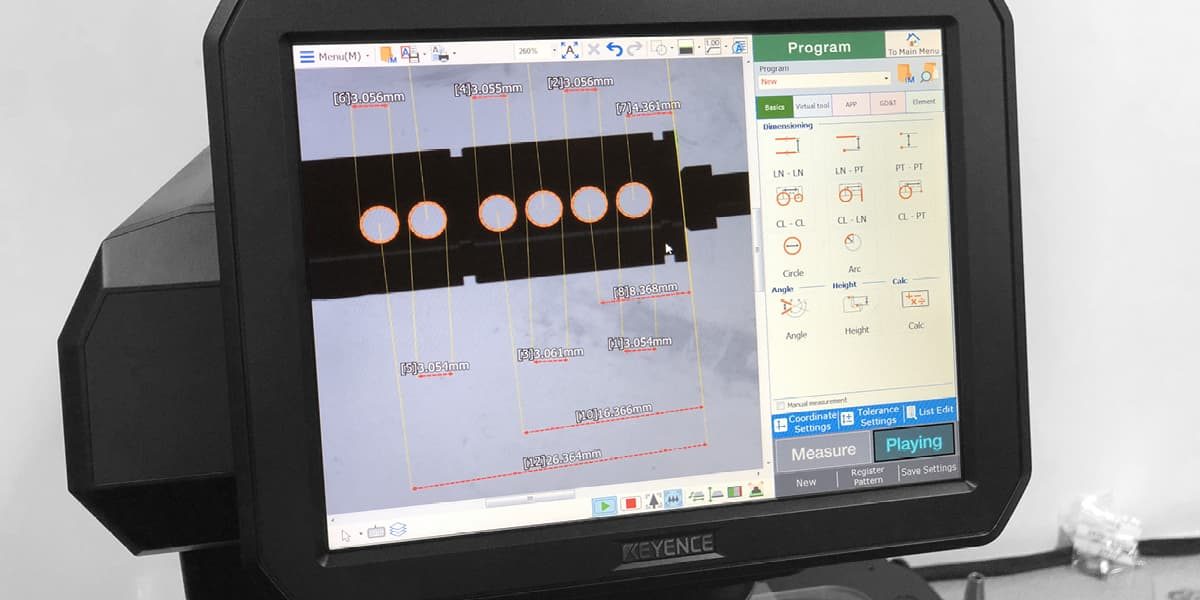 The Keyence IM-7000 Series offers a faster, easier way to acquire accurate and consistent measurements of components of any shape and size. Width, height and radius can be measured at one time using this device, highlighting the efficiency of the unit.
Up to 99 dimensions can be measured in seconds and up to 99 parts can be inspected simultaneously, both reducing the time and effort required for precision turned parts or CNC milled components inspection. The easy-to-use interface means all of our trained staff can operate the new system. The IM-7030T comes equipped with automatic positioning and orientation, automated focus adjustments, automatic edge detection and the ability to save and manage measurement data automatically. The wide range of auxiliary measurement tools allows even the most complicated of measurements to be set and all results can be transferred in real time to our servers automatically.
With its ring illumination and light probe unit, dimensions can be quickly and accurately measured like never before. Thanks to the probe deep-set shape and rounded corners, there is no need to filter components to be inspected or to be concerned about the deformation of soft parts when they're being measured. Inspection times are reduced even further and the consistent inspection standards ensures the stability of our quality levels.
All our staff have been trained to operate the new measuring system, resulting in more inspections being performed. Improving the rate at which these inspections are carried out often means that our state of the art equipment quickly becomes available for use once again, in turn, increasing our output. Our customers will benefit from the faster production process and turnaround times, receiving parts and components quicker and to the same first class standard.
APT are renowned for excellent expertise and outstanding quality of components. We operate to AS9100D and ISO 9001 accreditations for all precision turned parts and CNC milled components. All manufacturing processes are assessed and monitored to ensure the exceptionally high standards. In addition, full traceability and tracking throughout the entire process is offered to all clients, giving them peace of mind.
We are the leading UK subcontract manufacturer for the Aerospace industry, producing and assembling components for landing equipment, emergency breathing apparatus and aircraft seating. We also subcontract manufacture for the Security industry, prototyping and manufacturing innovative lock components for both domestic and commercial use.
The new IM-7030T will enable us to exceed the standards we hold for subcontract manufacturing. Providing our customers with high quality, quick and efficient service is fundamental to us here at APT. All orders benefit from our Aerospace accreditations, so rest in confidence that your parts will be as specified.
Offering value with the same level of expert knowledge and skill is imperative when producing parts and assembled components. Contact us for a quote and let us provide you with the quality and efficiency you expect.