Cycling and recycling for the environment
We're always looking for new ways to further our commitment to the environment. To this end, in August 2019 we joined the government's Cycle to Work Scheme. The scheme is doing good things for the environment, participating employees and society as a whole.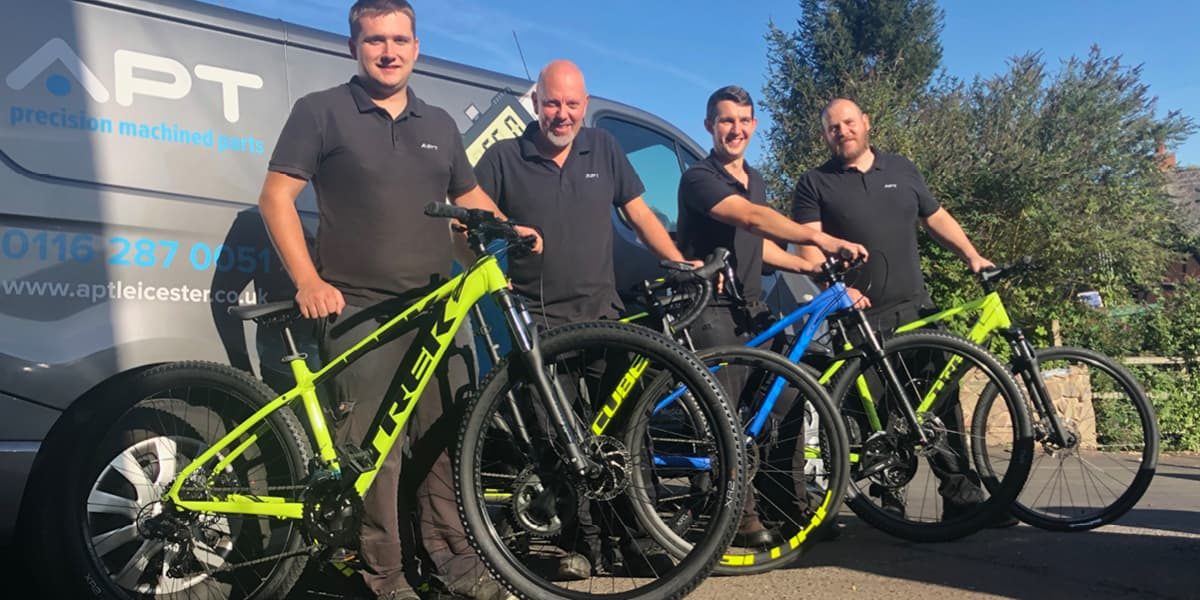 Reusing and recycling
APT is already committed to environmental sustainability and has a long-term strategy for reusing and recycling as much waste as possible. We've also worked hard to ensure the packaging for our components is fully recyclable and encourage reuse wherever possible.
This commitment extends to our workplace, where we make it easy for our employees to recycle all the plastic bottles, containers and cups they use.
The Cycle to Work Scheme is another way our employees are helping us to help the environment.
APT and cycling — a perfect match
APT is no stranger to the bicycle. We manufacture precision turned parts for bikes, including titanium screws and other moving parts. Titanium is exceptionally light and strong, which makes it an ideal material for racing bikes.
As a supplier to the aerospace industry, we hold the AS 9100 rev D accreditation. This means all our precision turned parts, including those for bike frames, are manufactured to the AS9100D aerospace quality standard.
About the Cycle to Work Scheme
The Cycle to Work Scheme has a number of clear benefits.
For the environment, it helps to reduce air pollution and traffic noise, while conserving our precious natural resources.
For participating employees, it provides low-cost travel, plus a chance to exercise and improve their physical fitness. They can also choose to purchase a new bike, spreading the cost through salary deductions and saving up to 42% by getting the bike tax free.
For the rest of society, it means fewer cars on the road, reducing traffic, queues and congestion.
How it's working so far
Since APT enrolled as an employer with Evans Cycles in Leicester, four of our 24 staff members have joined the scheme.
Sean and Rob were already keen cyclists who wanted to pursue their hobby through commuting and take advantage of the financial benefits to buy a new or different bike. Carl and Dany simply wanted to exercise and get fitter.
Before they joined, they were driving a total of 135 miles per week, to and from work. That's 810 fuel miles, and counting, saved since the scheme began.