Andy Mears, 25 years with APT Leicester
Every dedicated person makes APT the company that it is today. Andy has been part of our team for a long time. He joined us in the early 90s as a trainee setter and programmer from Jones & Shipman. He became our team leader 15 years ago.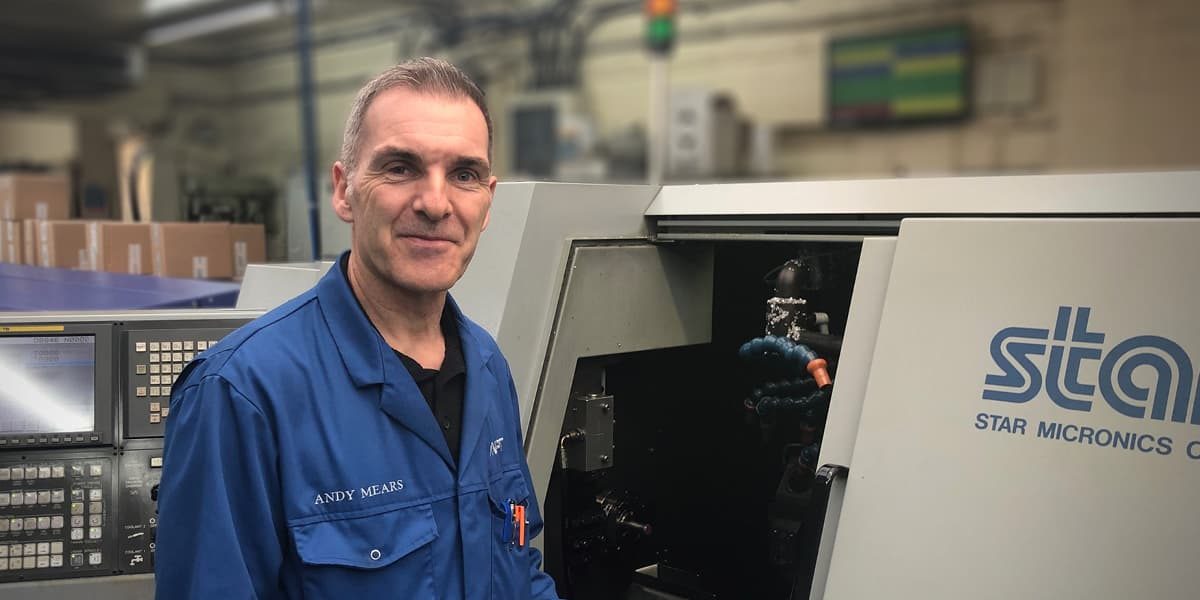 When he first joined APT Leicester, Andy worked on both fixed and sliding heads. As we expanded our precision turned parts fixed head section, Andy became an expert on these machines and began training new members of the team. He enjoys teaching and attributes his success to his patience. As the team grew, Andy moved across to his current team and to specialise in working with our Star sliding head lathes. APT Leicester uses these machines because of their reliability and versatility. He enjoys the variety of work that is machined on them and the different challenges that they offer every day.
Initially a self-taught programmer, Andy has received more formal, advanced training at APT Leicester over the years. With his specialised knowledge of sliding heads and his training experience, he now runs a team of setters and programmers which we are keen to expand.
Learning never stops at APT, our current training program includes an on-site course on our new Keyence IM-7030T measuring system. Keeping up to date about current technological advances is vital, and Andy attends exhibitions and open days to learn about new equipment on the market.
The number of machines at APT Leicester has grown considerably since Andy joined us. The technology has improved too. He has seen the move to complete CNC control and an increased capacity for machining smaller, more complex parts as well as the introduction of live real time monitoring across our shop floor for increased efficiency. He works with a large range of different materials, but admits that his favourite is brass. It is the variety of the work that interests Andy, everyday is different and we have built a great team around him. These are the reasons he has stayed with APT for so many years.
Andy has had an interest in mechanics from an early age, fixing up motorbikes at the age of 14. He still enjoys tinkering and finding out how things work. In his spare time, he enjoys off-road motorbiking with his good friend, Mike Shelton, who happens to be his opposite number at APT, as team leader of our fixed head section. When he is not on a motorbike, Andy relaxes in the outdoors whether walking or cycling and spending time with his large family.
At APT Leicester experience, knowledge and enthusiasm are highly valued, so we want to congratulate Andy and thank him for being part of our team for over 25 years.