A new approach to lock manufacturing
When a major lock company in the security industry asked APT to improve an anti-snap euro lock, we were ready for this new lock manufacturing challenge. Combining cutting edge technology and software with a team of engineers who take huge pride in their work, APT came up with an innovative solution to pass strict BSI standards.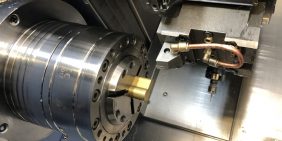 A new approach to lock manufacturing
Manufacturing anti-snap Euro locks on a machining centre is a complicated process. To help our client create the most effective design possible, our approachable team liaised closely, offering quick, expert advice and sound knowledge of materials, locks, pricing and machinability.
Next, we turned to our SolidWorks CAD modelling software. This is an area where APT has made substantial investment. The software is incredibly flexible and allows us to open all types of drawing files (including 3D models). This made it easy to make small changes to the client's existing design and fine-tune it efficiently and cost-effectively using our reverse engineering service. There was no need to re-draw the components from scratch; we just made changes where they were needed most.
We then produced fully working 3D models to test and prove principals on the new design before moving on to manufacture prototypes.
Precision lock manufacturing using Doosan lathes
Due to investment in two new lathes, APT has developed a new technique for lock manufacture, working on a Doosan fixed head lathe.
The lathe works like a CNC machining centre but it has the added ability of rotation and more importantly, can feed an extruded bar automatically rather than needing labour-intensive lock body blanks to be cut first.
The 7-axis state-of-the-art lathe is also able to work on all kinds of lock variants, such as key shapes or body lengths, at the touch of a button. With this capability to run different macro-programs, there's no time lost in setting the machine up to run all the variations needed.
For APT, the result has been a lock manufacturing process that's incredibly accurate, flexible and efficient; a fully automated system with the capacity to turn out extremely complex, intricate parts with ultimate precision, faster than ever before.
Satisfied client, BSI-standard approval
After creating prototype drawings and sample parts, the APT team put them through rigorous quality testing and re-testing to assess their resistance to snapping. The result was a final prototype which was submitted to the BSI for assessment and subsequently got approval.
APT brought teamwork, expertise and cutting-edge technology to this lock manufacturing project, saving valuable time and money for our customer and giving them the higher quality component that they wanted.
We've since applied this knowledge not only to machine Euro lock bodies but other parts including differ pins, outer shells, plugs and housings.
Successful projects like this prove how the APT team can take care of an entire process. With a team-led approach, reliable turned parts and excellent quality, APT are leading the way in UK lock manufacture.
If you'd like to take advantage of our precision service for lock manufacturing, please call us on 0116 287 0051 or contact our experienced team by email here.